HAVING FUN AT HOME

TV & INTERNET
All bedrooms are equipped with TVs – that look like mirrors. Televisions have been installed outside on the verandas, equipped with the satellite reception system TivuSat, that allows you to get international channels and follow sports events. It is possible to connect your HDMI cable to all the TVs.
Free wi-fi (no required password), with a reasonable speed.
MUSIC
With our SONOS wireless music system, you can stream your tunes to every room in the house and also to the patio outside (Mariachiara : please respect your neighbors at siesta time)
PING PONG
BOWLING
FOOSBALL
HAVING FUN NEARBY

SNORKELING
Really awesome full-face snorkeling masks are provided to you to make snorkeling a real pleasure. They come in different sizes. And even if the local marine wildlife is not that wild, you will enjoy the experience so much that you might become addict! Of course, you will also find classical snorkeling equipment, such as flippers, diving masks and snorkels.
CANOEING
1 seat and 2 seats. To put your canoe into the water, we recommend that you use the boat ramp in front of " La Pazienza" (see the map). Also use the roller carriers that you find in the equipment park, they will ease the transportation. Life jackets are mandatory and provided in all sizes.
It is possible to leave the canoes on the beach during the day (for example during lunch) but they need to be returned to the park at night. Keep in mind : use only on days of calm sea.
MOUNTAIN BIKES
4 mountain bikes for La Pazienza (2 adults – 2 children), and 5 mountain bikes for La Mariachiara (3 adults – 2 children) are provided to take trips in the surrounding hills. We ask you please to hose down the bikes (if they are really dirty) before leaving.
PADDLE BOARD

Excellent balance and coordination exercise. You can take a child for a ride. Always wear your life jacket.
ACTIVITIES WITH EXTRA CHARGE NEARBY

RENT-A-BOAT
We rent:
Zodiac 40 horse power – 6 people capacity (inflatable boat with motor)
No licence needed but good knowledge of handling a motor boat
Price per Day* : coming soon
Payment at check out with our housekeeper
*Day: 10am to 6pm
How to book? You can do so directly with our housekeeper on site. Payment at check out by credit card (preferred) or cash.
BOOK A LITTLE BOAT TRIP
On request you can book a boat trip with us (2:30) departing from Foxi Manna beach. Our boat driver will pick you up directly at the beach. You bring your safety jackets (mandatory), towels, drinks and sun protections. Do not forget our famous EASY BREATH masks to dive and have fun in the beautiful creeks.
Package (2:30) up to 6 people: 180 €
How to book ? You can do so directly with our housekeeper on site. Payment at check out by credit card (preferred) or cash.
HIKING
Feel like taking a little walk in Sardinian nature? We collaborate with a fantastic local association that will take you out in the wild, to discover the region. They offer 4 itineraries of different levels. They take care of everything even of bringing lunch.
Adult over 16: 30 €, under 16: 15 €, under 12: free
Lunch pack: 10 € per adult, 7 € per child.
How to book? You can do so directly with our housekeeper on site. Payment at check out by credit card (preferred) or cash
HORSE RIDING
People from Sardinia are accomplished horsemen. You will see everywhere horses grazing peacefully in fields, it is part of the landscape like sheep on the road at the bend of a curve.
There is a horseriding centre in Tortoli (30 minutes away) called Maneggio Pastrengo
http://pastrengo.altervista.org
TENNIS
It can be very hot in summer but you might want to try the Tennis Center nearby in the holiday complex Abba Urci. To book a court, ask in the lobby.
La Duna Bar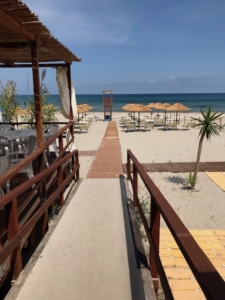 PEDAL BOATS (PEDALOS)

It is possible to rent pedal boats on the beach of Foxi Manna – we recommend an outing on the sea to really enjoy the peace and quiet.
EXPLORE THE REGION BY YOURSELF

Directions on the map provided to you upon arrival – Take the road ss125 North (Olbia – Tortoli direction)
ULASSAI CAVES "SU MARMURI"
Visit the biggest cave in Europe. The temperature inside the cave is about 10° – so we recommend that you take appropriate footwear and a warm jacket! You can only visit the caves with a guide during specified tour times (note that the tours are available in French, English or Italian). The tour takes approximately 1 hour and 15 minutes. You can have lunch at the pizzeria on site and wait for the 2pm tour!
April – October: 11:00 – 14:30 – 17:00
May – June- July – September: 11:00 – 14:00 – 16:00 – 18:00
August: 11:00 – 13:00 – 15:00 – 17:00 – 18:30
GAIRO VECCHIO, THE LOST TOWN
This hillside ghost town has been lost in time. Gairo Vecchio was abandoned in the 1960's after a series of floods and is now a popular attraction for travelers. The new town has been rebuilt 1 km further up (Gairo St'Elena). You can visit Gairo Vecchio on foot to feel the unique and eerie atmosphere of the abandoned village. In the Fall with the mist, it is even more dramatic. Gairo Vecchio is a surreal place where nature has reclaimed its rights and allows you to witness the rural traditional architecture that is Sardinia.
JERZU, THE FERTILE

The town is overlooking the very fertile valley of the Rio Pardu, where the famous red wine, Cannonau DOC, is produced – a wine rich in polyphenols, said to enable the local population to age well. The vineyards are covering the steep hills of the Pardu which yield 10'000 tons of grape every year. Beyond the vineyards, you will find acres of almond, walnut and chestnut trees, fig trees, olive trees, wheat, and barley. We suggest checking their calendar for local celebrations, like the Wine Festival Calicci di Stelle in August.
THE SMALL GREEN TRAIN: TRENINO VERDE
A tourist service of the State Railway, boarding the little green train is a unique experience. It takes you to places that are unreachable by other means.
This train is set on a railway with narrow tracks and passes through a territory rich in vegetation. Be ready to immerse yourself in the authenticity and the spectacular beauty of inland Sardinian scenery. Rated as one of the best experiences in all Sardinia.
Unfortunately since August 2017, because of a fire, you can no more take the train in Arbatax (near Tortoli) to travel to Gairo. But other routes are possible, not too far from our villas, like : Mandas – Seui for example.
Travel on this train is made possible by simply buying a ticket at the station of departure, in any authorized agency or directly on the train.
The prices, the periods and the timetable in which the service is active are posted at the railroad stations or you can visit the sites
www.treninoverde.com
www.ferroviesardegna.it
TORTOLI & ARBATAX
30 km away, you will find the small town of Tortoli and next to it, the port town of Arbatax.
When we feel like doing some shopping, we drive to Tortoli. There is a full range of shops that we can expect in a small town on the main street. OVS, a famous Italian clothing company, has a store on Via Baccasara (women's, men's and children's clothing). Or we visit the market on Friday morning in the town center.
DISCOVERING OGLIASTRA BY BOAT
40 km of beautiful, unpolluted coastline – from Arbatax
In Arbatax, there is a large marina where you can book a boat tour. There are daily boat trips during the summer months which stop at Carribean-style coves with white, sandy beaches. Get to discover the Golfo of Orosei, Cala Golorize, Cala Gonone, the Grotta del Bue Marino (natural caverns)… On some trips lunch on board is organised.
Some suggestions of tour operators, leaving from Arbatax:
Helios Turismo
Charter Sardinia
BEACHES
Feel like changing beaches? No need to go very far. Just take your car and head towards Tortoli (ss125).
Cea Beach
Found in between Bari Sardo and Tortoli. A vast beach with white sand and turquoise clear water, adjacent to spectacular cliffs. The heap of red porphyry rocks in the middlle of the sea – called "Is Soglius Arrubius" in Sardinian – are characteristic of Sardinia. The waters are shallow and ideal for chid play. You will find large parking, a bar, a restaurant and a spot to rent beach umbrellas, chairs and small pedal boats. In fall and winter, the landscape makes for beautiful photography.
Torre di Bari
In Bari Sardo, near Cardedu, a very nice beach split in two by a well preserved Spanish watchtower (16th century). The beach is 8 kilometers long. It is an ideal spot for snorkeling – not so much for small children (the water gets too deep too quickly). Access to parking, bars, restaurants. The place has even some hotels and can be lively after nightfall. Possibility to rent beach umbrellas and chairs. There is also a diving center. Because the beach is exposed to different winds like scirocco and grecale, it is a beloved spot for surfers and kiters.
Lido di Orri
4 km south of Tortoli, one of the most pristine beaches in Sardinia. Long beach with fine white sand. Very clean. Shallow waters and sand banks as far as 300 meters from the shore – ideal for children. Incredibly clear water. Access to parking, bars, restaurants. Possibility to rent beach umbrellas and chairs and small pedal boats.
THE MAGIC OF WATERFALLS
There are many waterfalls all over Sardinia but we are fortunate enough to live near one of the eight most beautiful waterfalls in Italy.
Cascata Lequarci
How to get there: take the main road ss125 North to Tortoli, follow signs to Jerzu and Ulassai. After Ulassai (postcard perfect village, 800 m above sea level), you will find the most impressive falls of the island: Lecorci (not far from the cave Su Marmuri) and 7 km away Lequarci (making a jump of nearly 100 meters). It is truly a beautiful place, with a myriad of little lakes at the feet of the falls. Try to visit them after heavy rainfall – it is even more spectacular! Please note that in summer, there is less water.
Good to know: combine the visit of the Su Marmuri Cave with the waterfalls
NIGHT LIFE

In the evening, during high season, teens and young adults will be entertained at the "La Duna" disco bar, which serves as a lunchtime restaurant on Foxi Manna Beach. In addition, in July and August an "Open air Disco" is organized on the parking lot of Foxi Manna beach every Wednesday and Saturday night.