RESTAURANTS

You'll receive a map during the check-in
Tipping: you may leave something even if most Italians do not tip the servers.
Our list is subject to changes. Restaurants change often owners or close momentarily for some reason.
Opening hours: in season (mid-May – June – July – August – September) one can be sure to find all the restaurants open in Marina di Tertenia, even for lunch. Out of season, most of them are closed in Marina di Tertenia or open only on week-ends.
Little overview of

Marina di Tertenia

restaurants

SHARDAN
Lounge-bar & restaurant
Fantastic view and location. We like the white curtains on the deck, the terrace overlooking the sea and the trendy look. It is inviting us to have a glass of Prosecco. Fish specialties. Cuisines: italian, bar, seafood, pub, mediterranean
LA GROTTA
Restaurant – pizzeria – bar
La Grotta offers a simple but effective cuisine and everything tastes perfect. You can go there with a large group, they will accomodate you since there is a big outdoor seating. It is open everyday. Cuisines: mediterranean, italian, seafood
JANAS
Hotel – restaurant – pizzeria
The retaurant is part of the hotel Janas, nice mansion with a swimming pool, located in the middle of the fields. Staff very nice. Large choice of items, excellent pizza, fish and seafood. Cuisines: mediterranean, italian, seafood
DA GIORGIO/COCCO CAFFÈ BAR DA LILLINO
Bar – Restaurant – Pizzeria
The bar that used to have one of the best cafés in Sarrala has opened its pizzeria. The terrace is huge, perfect for families and lovers alike. The service is friendly, the beer is always fresh and the pizza is sublime.
PIZZERIA (DA PIERGIORGIO)
pizzeria – pizzas à l'emporter
We like the fact that it is nearby – we can quickly get our pizzas to bring home. Simple and efficient. In Winter, open in the evening on week-ends.
Cuisine: italian
SA IBA RESORT
Hotel – bar – restaurant
Very nice surprise with this new hotel in the middle of the fields, with a lovely swimming pool. To have a Spritz, a mojito or to eat out: the chef has imagination. Children also welcome.
Cuisines: mediterranean, italian, seafood
LA DUNA
Small bar – restaurant | Lunch on the beach
We like it because we eat facing the sea, wind in our hair, good music playing, good coktails, ice-creams for the kids and above all, because of the choice of lunch items, often fresh fish, caught just this morning…. Cuisine: italian
A local speciality: the culurgiones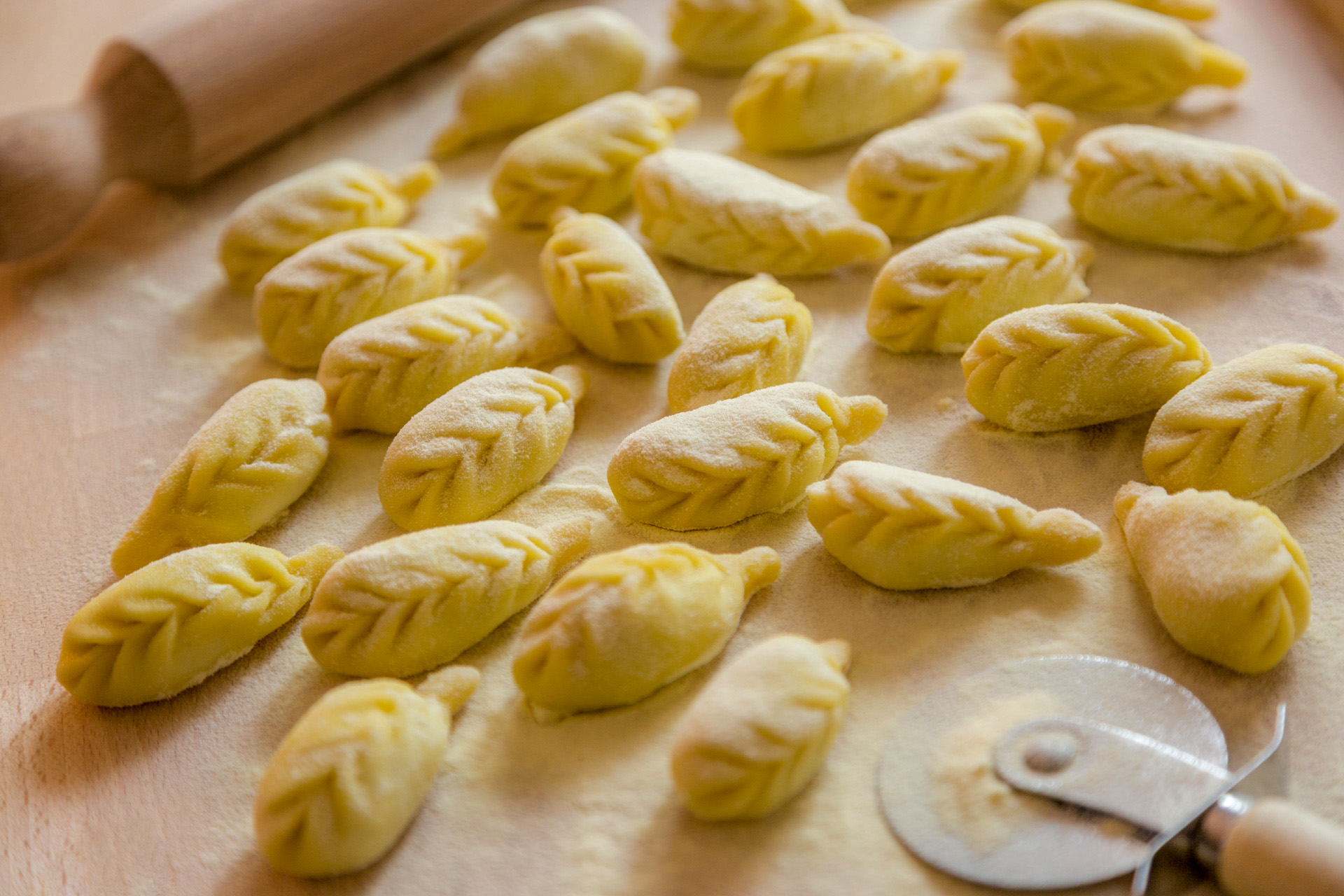 SA MOLA
The one for the lunch "à la sarde"
The place is a unique place. So emblematic. You get in for lunch with insiders only, or workers, or even soldiers. There is no menu but the boss is coming to the table to inform you of your options… Cuisine: italian
Restaurants in Tertenia (9 km away from Marina di Tertenia)

DA BERNY
Restaurant – pizzeria | The one with the good pasta aglio, olio & peperoncini
It is worth the trip, the restaurant is an institution, very simple, from another epoch but so good, where locals come to eat roasted suckling pig (maialino da latte). Closed on Thursday. Cuisines: mediterranean, italian
Take away

SISTERS MARONGIU
Macelleria Rosticeria
Deli & butcher shop in Foxi Murdegu:
Lasagna
Curlugiones
Grilled chicken
…
Sapori e Tradizioni: bread & pizza
in Tertenia
Different bread or a slice of home made pizza for lunch
FISH STORE IN TERTENIA (PESCHERIA)
octopus carpaccio
seafood salad
shrimps garlic
calmars in tomato sauce
…
COCCO CAFFE BAR DA LILLINO
Bread and croissants to take away and a réal good coffee – or choose our Croissants Home Delivery to have your croissants delivered directly home every morning.
Private home cooking service

CHEF IN-VILLA
(Private home cooking service)
Why wouldn't you make the most of your break and hire someone on a special night to cook an Italian dinner for you and your family?
Sit back and relax and someone else is going to do all the hard work (see A la Carte).