It has to be said: from the end of October, Sardinia is simply beautiful. The coastline, sprinkled with myrtle, mastic and juniper trees, looks like a biblical landscape. The hills are dotted with thousands of nuraghes, mysterious stone ruins dating back to the Bronze Age, and it is not uncommon to come across goats and sheep on the way back from shopping… In short, the place is authentic, away from mass tourism; and our houses, nestled in the Sardinian scrub, between the mountains and the Tyrrhenian Sea, are totally suited to the "cooler" temperatures: pellet stoves, heaters, flat screen TVs, cosy sofas and plaids…
The sea and the wind
Even if winter is mild in Sardinia, it is often hit by strong winds. It is an extraordinary experience to be on the beaches of the east coast at this time of year, such as those between Arbatax and Marina di Tertenia. Moreover, if you want to photograph deserted beaches, this is the right time. The horizons are full of changing colours, the sea, the sky, the storms or the sumptuous full moon nights will delight the lovers of landscapes and natural splendours.
Temperatures and swimming
Sardinia has four distinct seasons, with temperatures that remain mild, despite the cold of the mountains (except of course inland where some villages experience snow). From mid-October onwards, the temperatures cool down, but there can still be very hot days. It is then possible to sunbathe on the terrace and go swimming. The sea temperature remains pleasant until the end of October, beginning of November. When the weather is good, it is even possible to eat outside on the terrace at midday.
Mariachiara: on request, the swimming pool can be heated to 25°.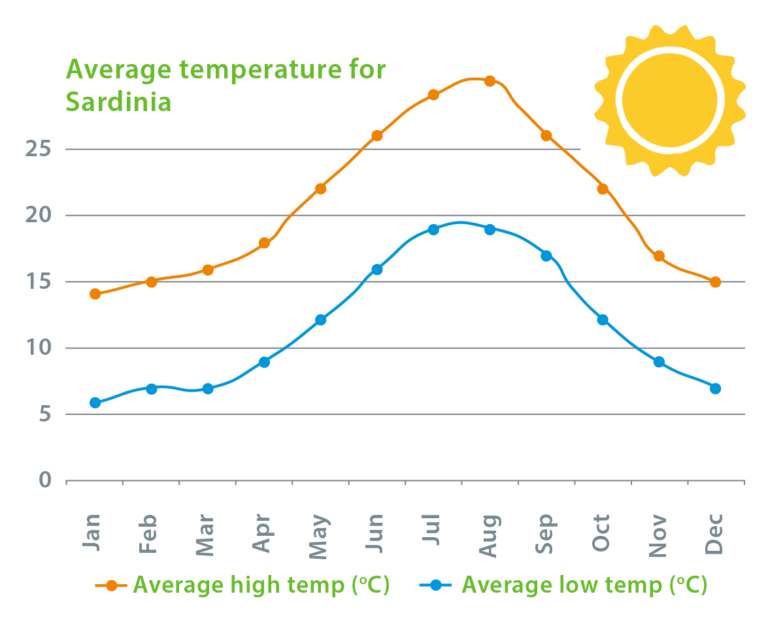 How to dress?
Take autumn clothes: trousers, jumpers, long-sleeved shirts, windproof jackets or light down jackets, scarves. Layer up! On windy days, the temperature can be much lower than the thermometer shows. So pack something warm in your luggage (and a swimming costume for the brave).
New New New!
The new wellness & SPA area in partnership with the Resort Hotel Sa Iba
We are delighted with our new partnership with the Sa Iba Hotel, which has just opened a new wellness area just a few minutes drive from our villas.
Hot water swimming pool, Turkish bath, hammam, sauna, salt grotto, massage and beauty treatments… You will love to recharge your batteries in a cosy and refined atmosphere.
Rates (children >12 years and adults)
Access to the SPA for 4 hours including hot drink
Access 1 x =200 Euros
Access 3 x =550 Euros
Access 5 x =800 Euros
Access 1 x =325 Euros
Access 3 x =890 Euros
Access 5 x =1300 Euros
Relaxing / Ayurvedic / Sports
Pack of 10 massages : 350 Euros
How to book ?
On site with our housekeeper